Source: deccanchronicle



The question troubling the Bidri craftsmen in Bidar, where this art developed and flourished for centuries.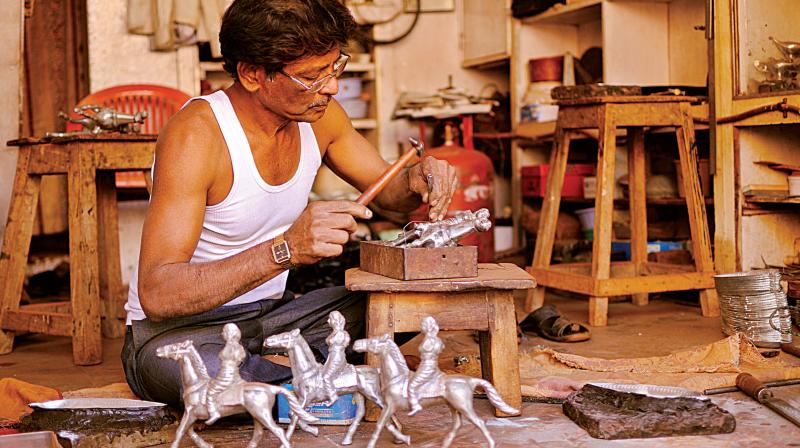 National award winner Bidri artist Abdul Rauf making statuettes of Rani Chennamma at his workshop. Inset is Rani Chennama's statuette which was presented to PM Modi recently – DC


BIDAR: Amidst the glint of gold and silver and the lure of synthetic ware, is the famed Bidri art which dates back to medieval times, losing its charm?
That's the question troubling the Bidri craftsmen in Bidar, where this art developed and flourished for centuries.

Promoted by the Bahamani kings, the intricate craft is at the crossroads with the tastes of people changing and less and less youth interested in embracing it as a means of livelihood.


Bidriware has always enchanted art lovers across the country and globe and includes exquisitely designed flower vases, jewellery boxes, royal hookahs and paan holders. The big question is whether it can be diversified to meet the tastes of the present generation. This does not mean that the traditional ware, painstakingly prepared by craftsmen, has no market as they still command high export value. But trends are changing and unless the artisan can style his product according to changing preferences, Bidri art may well be relegated to some dusty shelf in an antique or handicraft shop with buyers hardly casting a glance at them.

Popularised by sultans who ruled Bidar in the 14-15 centuries, Bidriware was brought to India from Persia by followers of Khwaja Moinuddin Chisti. It derived its name from the unique soil, which is available only inthe world famous Bidar fort. Till today, no one has been able to find out why this soil is so special for making Bidriware. Some artisans claim the soil has remained hidden from sunlight and rain for years and has great oxidizing properties that give Bidriware a lustrous, black colour.

There are others who believe thatthe part of the fort from where the soil is collected for making the items,was a mine in the past. Even the test conducted by craftsmen to identify the soil, is unique and amazing- they taste the soil! The skill comes from experience and ispassed on from generation to generation.

Preparing a Bidri artefact is a long and complicated process wherein silveris inlaid on a blackened alloy of zinc and copper. The material is first cast in moulds made from clay, sand, resin and oil. Chisels of varied sizes and shapes are used to engrave the design. Silver metallic wire is then laid in the engraved area. The item is cleaned and polished to be finally put in copper sulphate solution which gives it the dark colour. The entire process is either performed by one person or by various artisans specialized in their respective areas.

Realising the need to preserve the art form for future generations,National Bank for Agriculture and Rural Development (NABARD) started the Bidriware Cluster Development Programme in 2002 and formed 15 self help groups of artisans. The Krishna Grameena Bank has given loans to these groups.

Artisans have also been issued Artisan Credit Cards and covered under Janashree Bhima Insurance Scheme. Faculty of the National Institute of Design have trained artisans to reducecosts and make new designs to enable them hone their skills and produce world class work for export. All these efforts seem to be bearing fruit. The Bidriware cluster members have been regularly attending national competitions and exhibitions.

Abdul Rauf, national award-winning master craftsman, says he has no problem in marketing his products as he produces the items required by the market. "I keep innovating and producing new products according to changing needs of the market. I get orders from Bengaluru, Hyderabadand Mumbai and I produce what they want. So I have no problems inmarketing my ware", he said.

However Rauf admitted that only a handful of artisans were adapting to the new designs, while most were still stuck with age-old styles. Though there is steady growth in the market, the craft is not attracting the new breed of artisans. On the contrary, the number is dwindling year after year.

"In a way, Bidri craft has become a hereditary profession and very few outside the family take it up. This is because artisans develop eyesight problems early in life and most of them are not paid well enough for their effort. Even in the families of craftsmen, few children are willing to take it up now", an art lover commented.

The legacy of the Bahamani kings can endure the changing times only if Bidriware evolves to catch the fancy of Gen-Next with a mind-boggling and attractive set of products and designs matching the mindset and needs of the modern connoisseur. For an art which has retained its pristine form through the tumultuous course of five centuries, this is no big challenge provided the artisan can change and give his work a touch of contemporary times.

Major attraction in museums
The art forms created by artists from Bidar city centuries ago, are now major attractions in museums such as Victoria and Albert Museum, London, National Museum, New Delhi and Indian Museum, Kolkata. All dignitaries and guests of the Commonwealth Games 2010 were presented mementos handcrafted in Bidri style.

This art form was the Union government's choice for souvenirs at the World Economic Forum in Davos. Among the new Bidriware are paper clips, key bunches, lockets, envelope openers, pen stands, lampshades, kajal boxes, tiles and tabletops. Recently Prime Minister Narendra Modi was presented with a memento of Kittur Rani Chennamma crafted by Bidri Artist Abdul Rauf.


source: http://www.deccanchronicle.com/lifestyle/books-and-art/111216/sunday-story-famed-bidri-art-awaits-modern-touch.html



" Twitter: #BidarInfo (@BidarInfo) "